We are sharing the news from our colleagues at the Reef Resilience Network for their upcoming webinar on May 19, 2020, 2pm EDT.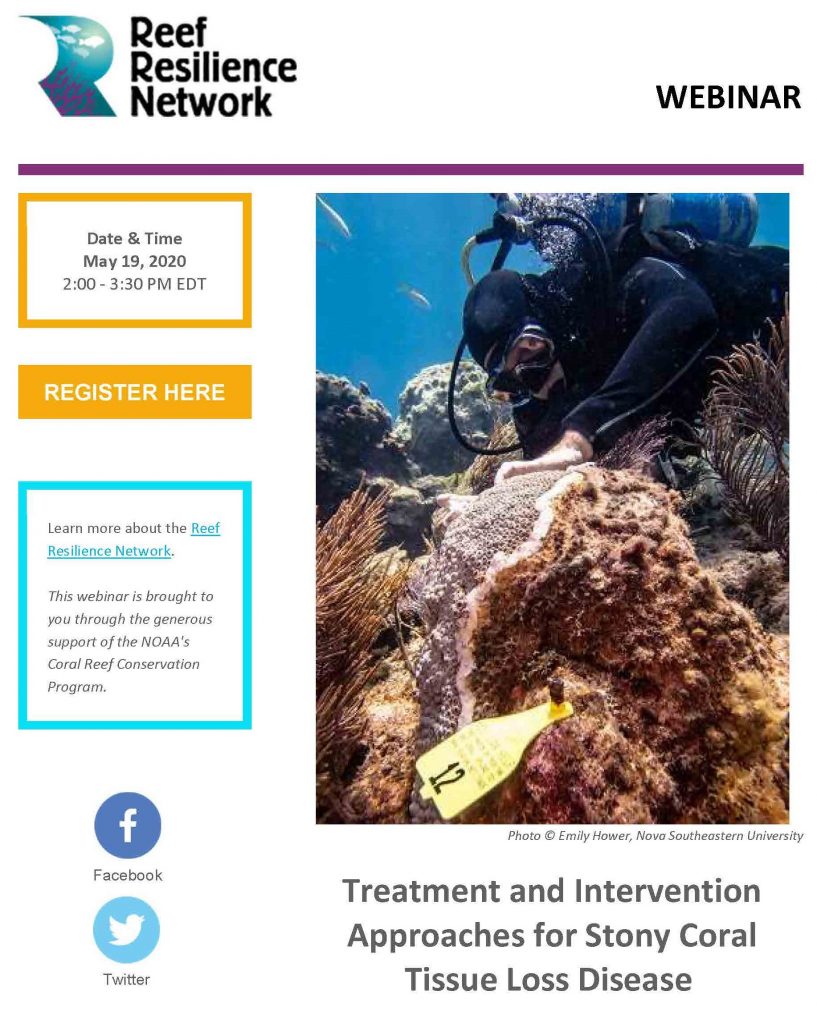 Register for the webinar HERE
This webinar focuses on the Treatment and Intervention Approaches for SCTLD. It will feature talks from Reconnaissance and Intervention Team co-lead Karen Neely, Val Paul, Marilyn Brandt, and Mike Favaro of Ocean Alchemistics, LLC.
An outbreak of an epizootic coral disease, known as Stony Coral Tissue Loss Disease (SCTLD), is severely impacting coral reef ecosystems in the Atlantic-Caribbean region. While the disease was first identified on Florida's reefs in 2014, it has now spread to nine countries and territories in the Caribbean. Coral reef scientists and practitioners in the affected locations have been working to develop and apply existing and new intervention techniques in an effort to halt the spread of the disease, maintain reef structure and function, and protect rare species. Join our webinar to hear from leading experts on their experiences with different SCTLD treatment approaches as well as exciting new efforts to develop alternative treatment options using natural ingredients and probiotics. Presenters include Dr. Karen Neely from Nova Southeastern University, Dr. Marylin Brandt from the University of the Virgin Islands, Mike Favero from Ocean Alchemists LLC, and Dr. Valerie Paul from the Smithsonian Institution.

This webinar is co-hosted by the U.S. National Oceanic and Atmospheric Administration (NOAA) on behalf of the Caribbean Cooperation Team of the Florida SCTLD Response Effort and the Reef Resilience Network.
All of the Reef Resilience Network webinars are recorded and posted on their website for viewing any time after the webinar. They can be accessed at: http://reefresilience.org/webinars-online/