Concerns for Diadema – your help is needed!
March 29, 2022
Diadema antillarum, also known as the long-spined sea urchin, is one of the most important herbivores on Caribbean coral reefs, removing algae and maintaining open space for coral growth.
In mid-February 2022, we first learned of extensive Diadema die-offs close to Charlotte Amalie Harbor in St. Thomas, U.S. Virgin Islands. Within a month, additional mortality events have been independently observed elsewhere in St. Thomas plus nearby St. John, as well as Saba, St. Eustatius, Dominica, Jamaica, St. Vincent and perhaps other islands.
Diadema previously experienced a massive die-off throughout the Caribbean in the early 1980s. Sampling at the time was inadequate to determine the cause of their demise. Few Diadema populations have since fully recovered, resulting in algal-dominated states on many of the region's reefs.
While we do not know what is causing these dispersed die-offs, the speed at which large numbers of sick urchins are now dying on affected reefs resembles the mass mortality event of four decades ago. We worry that a real crisis is developing in the Caribbean, where stony coral tissue loss disease (SCTLD) has already caused widespread coral losses affecting about 34 coral species in 20 countries/territories.
A collaborative region-wide effort – the Diadema Response Network – has quickly formed to track and try to understand the cause of this recent die-off of Diadema (and possibly other sea urchins).
We need your help in reporting healthy, sick or dead urchins and in collecting samples to search for the causation of the die-off. If you are interested or able to help collect tissue samples for analysis, please contact us for further guidance. Additional strategies for sampling seawater and sediment and an evaluation of the potential for Diadema rescue are being explored.
Report Sightings
Help us track sea urchin health in the Caribbean by adding your observations of healthy, sick or dead urchins. These reports will allow us to determine the spatial extent of the die-offs and broadcast their chronology in real time. It is as important to report healthy populations of Diadema as ones experiencing die-off. Click on the blue button below.
Survey Form available in English, Spanish & French. Once the form opens, you can select in the upper right corner to view in English, Spanish, or French.
Tracking Sea Urchin Health in the Caribbean
The Diadema Map is a collaboration of the Diadema Response Network and partners and shows sea urchin health observations in the Caribbean. This interactive map displays locations of sick or dying sea urchins confirmed in the Caribbean. Sightings are submitted through the Diadema online Survey Form above which then appear on this map below as purple markers while the information is being thoroughly reviewed. Once reviewed, the markers turn Red if unhealthy or dead urchins are present/confirmed or Green if urchin populations are healthy. For more information contact us at info@agrra.org.
To cite or use this map in a report or publication: AGRRA. 2022. Diadema Response Network – Map of Diadema and other sea urchins in the Caribbean. www.agrra.org. ArcGIS Online. [access date]. Check back frequently for updates.
Updates on Diadema mortality event
U.S. Virgin Islands
In early February 2022, a local dive shop operator witnessed dozens of dead Diadema at Flat Cay, St. Thomas. It wasn't until two weeks later, on February 16 that local researchers and resource managers were made aware of the situation when the video was posted on Facebook. An emergency meeting of the Virgin Islands Coral Reef Advisory Council was held on February 18 and quickly after additional reports of the die-off began to come in from sites across Southwest St. Thomas. An existing SCTLD reporting tool and map for USVI were updated and spread through various newspapers to capture information to measure the extent of the die-off and monitor the spread. Fueled by reports from the researchers at the University of the Virgin Islands and other concerned stakeholders, the extent of the die-off was monitored across southern St. Thomas in the following weeks and first reported in St. John by mid-March. No observations have occurred in St. Croix thus far. So far, samples have been taken from both St. Thomas and St. John and will be sent off-island for processing.
All observations have been consistent with other areas: Diadema first detaching from substrate through loss of control of their tube feet followed by shedding of spines and tissue loss.
For more information on the situation in the USVI, please contact:
Matthew Warham, Department of Planning and Natural Resources
Saba
University of Applied Sciences Van Hall Larenstein is studying the Diadema sea urchin populations around Saba and St. Eustatius since 2017. Together with local partners we monitor Diadema larvae densities, settlement rates and juvenile/adult populations. On 11 March the first reports came in of Diadema sea urchin mortalities in the Saba harbor. This was confirmed later that week. One week later (18 March) around 50% of the sea urchins of the harbor population were dead. Many of the remaining sea urchins showed unnatural behavior and are expected to die too. With 200 Diadema sea urchins in our nursery we have the opportunity to study this new mortality event closely. We gather information about symptoms and how soon they occur. We also treat some of the sea urchins in the hatchery with antibiotics, to determine if this can cure sick urchins or prevent individuals from getting sick.
More information about our Diadema restoration project: https://www.vhluas.com/research/research-projects/diadema
Alwin Hylkema, University of Applied Sciences Van Hall Larenstein,
Contact: alwin.hylkema@hvhl.nl
St. Eustatius
On March 14, 2022, the St. Eustatius National Parks Foundation (STENAPA) was alerted by dive shops of many dead long-spined sea urchins in our small artificial harbour area. STENAPA then requested my assistance to conduct surveys and make observations of the urchin population there. Observations revealed 44 % of urchins to be dead, 6 % sick and 50 % appearing to be healthy. Sick urchins appeared to be "petrified" with no ability to stay attached to the substrate and very limited spine movement. The sea floor was littered with urchin skeletons and spines swaying in the current, painting an ominous scene. Soon after, reports from neighbouring islands were brought to my attention.
Contact information
Kimani.kitson-walters@nioz.nl
Affiliation – Caribbean Netherlands Science Institute
New- Diadema Restoration workshops
1. Different approaches to the restoration of Diadema antillarum / Diferentes enfoques para la restauración de Diadema antillarum Stacey Williams May 2022 / mayo 2022
Spanish version available here.
2. The Dutch Caribbean Nature Alliance (DCNA) and University of Applied Sciences Van Hall Larenstein (VHL) hosted an informational workshop April 5-6, 2022, on Saba. The workshop focused on the restoration and cultivation of Diadema antillarum and an overview of the current die-off of this important herbivore.
Recordings from some of the sessions are provided below.
Diadema die-off – Presenter Alwin Hylkema (Link: https://youtu.be/vbfwItmOSio)
Introduction on Diadema Restoration- Presenter Alwin Hylkema (https://youtu.be/ju-9rXnaXIM)
Diadema cultivation- Presenter Tom Wijers (https://youtu.be/tTKl03Jt_38)
For any questions on the workshop, contact Alwin Hylkema (alwin.hylkema@hvhl.nl) or Tom Wijers (tom.wijers@hvhl.nl)
Long-spined urchin (Diadema antillarum)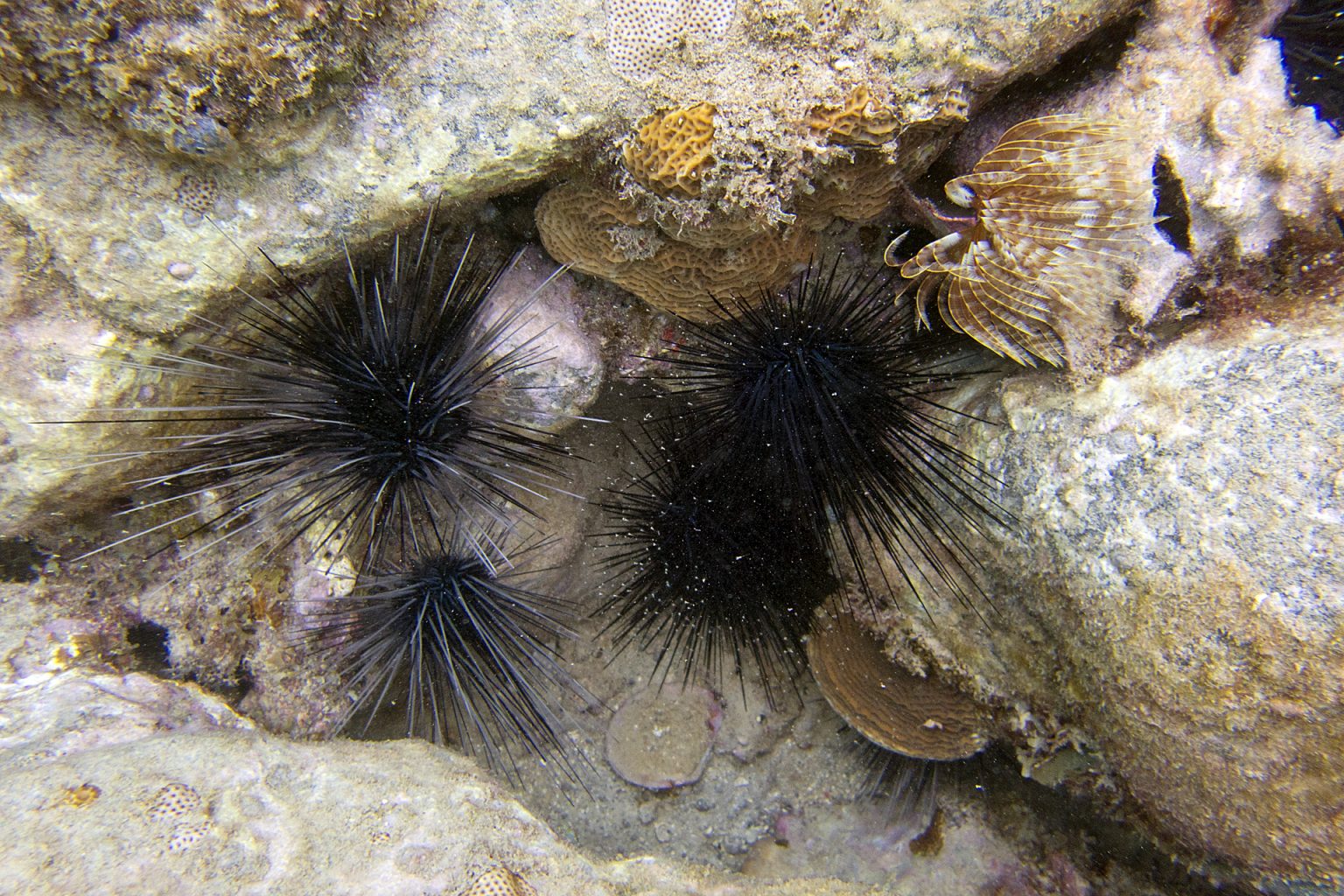 Group of Diadema antillarum
Other common Caribbean sea urchins
There are several other species of sea urchin in the Caribbean. Many of these sea urchins share the same habitat and resources with Diadema. We have received reports that other species, like West Indian sea egg (Tripneustes ventricosus) and the pencil urchin (Eucidaris tribuloides), were showing signs of illness. Therefore, it is important to report anything suspicious with other species of sea urchins. Below is a guide to help distinguish between the common shallow-water urchin species.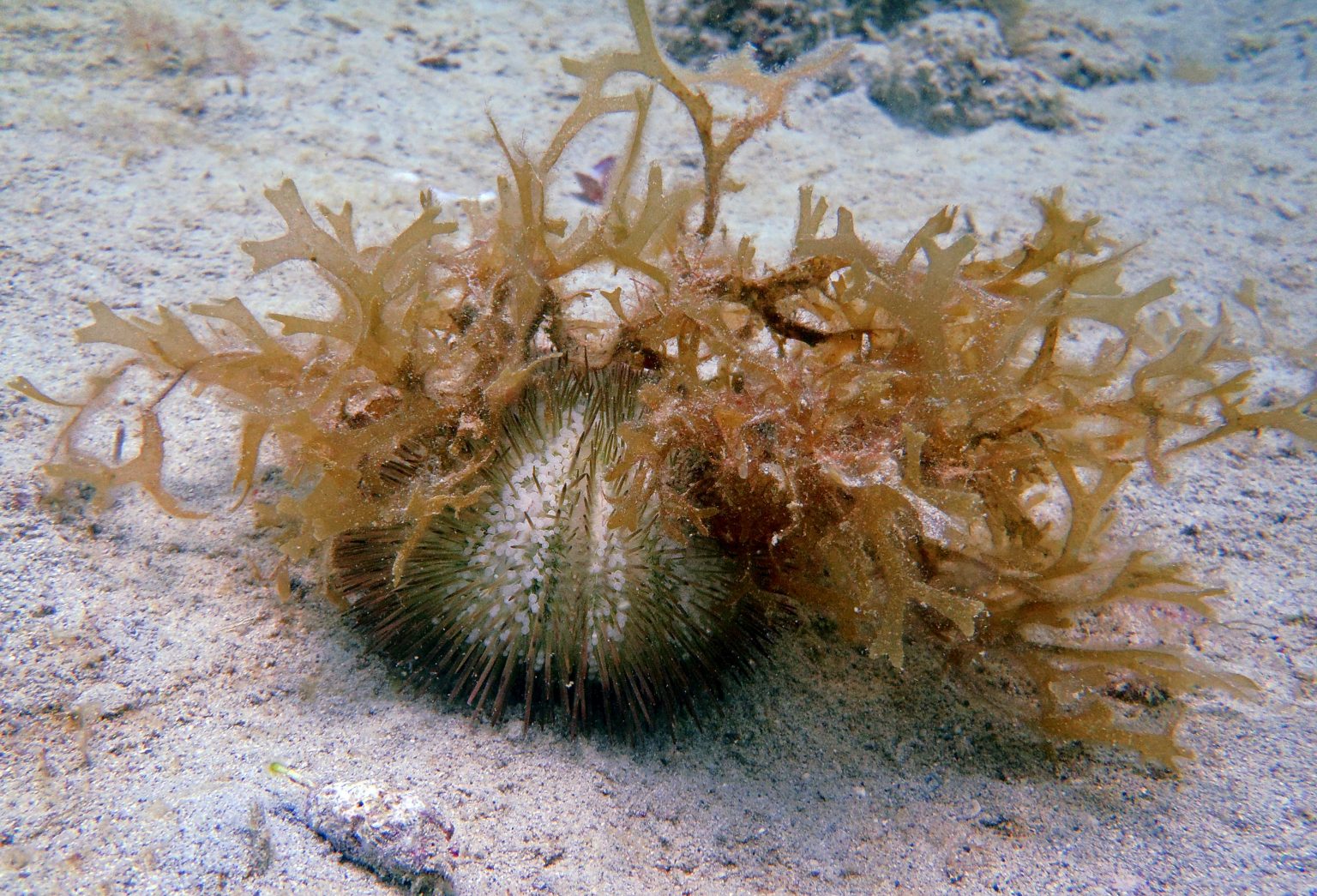 Variegated urchin (Lytechinus variegatus) 2 to 3 in. (5 to 8 cm)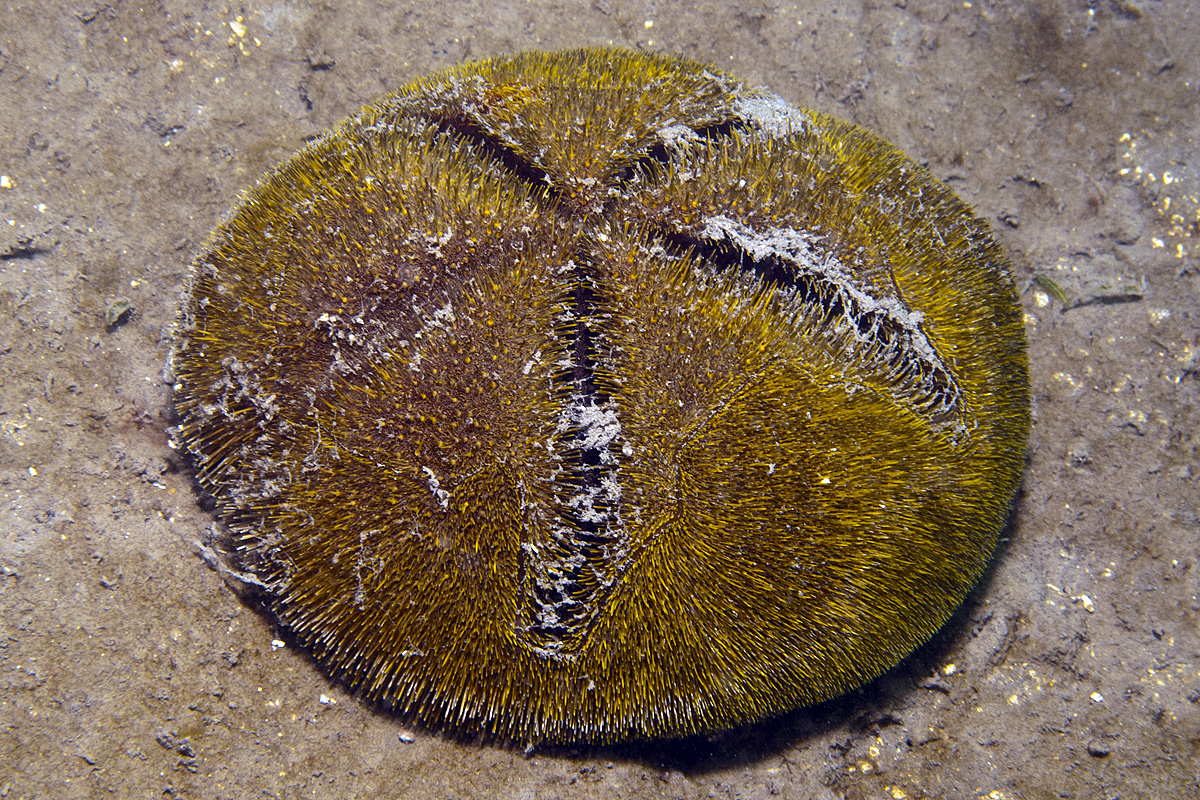 Red heart urchin (Meoma ventricosa) 4 to 6 in. (10 to 15 cm)
Stages of mortality
Observations of healthy, sick, dying and dead urchins
Healthy – Urchins have no visible lesions or symptoms, intact spines and exhibit normal spine movement when stimuli is receive
Sick – Several signs or stages of illness occur over time, although signs progress rapidly (1-2 days)
Sick urchins may have excess mucous on spines, although spine movement may appear normal.
Urchins may lose the loss of tube feet, and unable to attach to the substrate. They may be swept off their habitat and float in the water unable to control motion or re-adhere. Spine movement less active; spines may not respond to touch as quickly.
Urchins start to lose spines until they eventually fall off (~2 days), tissue may slough off, although test and mouth structures are still intact. Majority of urchins present affected.
Dead – urchin may or may not have visible lesions, no movement of spines at all when prodded, not attached to substrate, skeleton is exposed with loss of spines, completely white skeleton with no spines. Numerous dead urchins.
Observations from the field
Photos below show healthy, sick and dead Diadema urchins. Photos of sick and dying urchins were shared by Kimani Kitson-Walters (Data Monitoring Officer, Caribbean Netherlands Science Institute (CNSI) and observed in March 2022 in Sint Eustatius.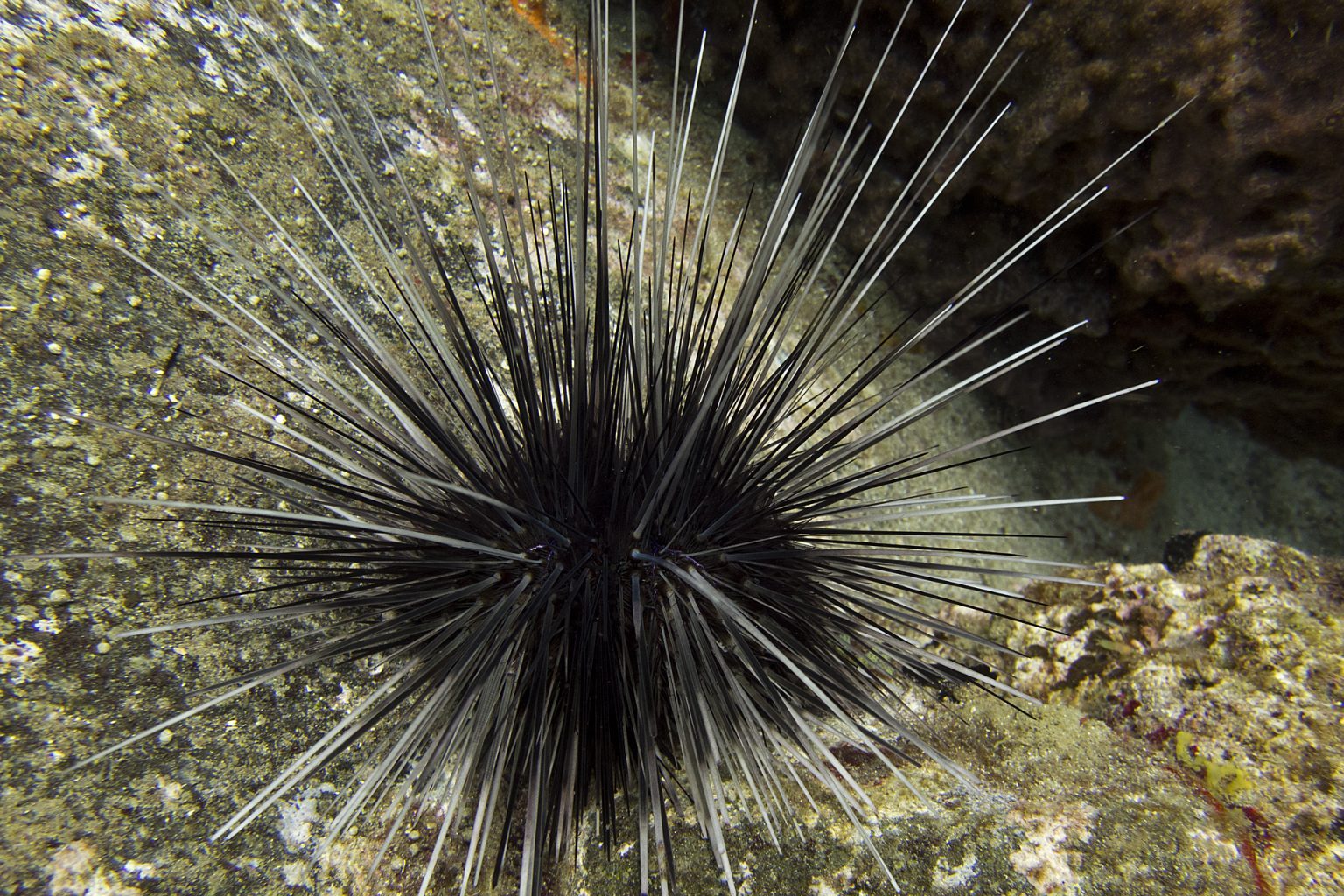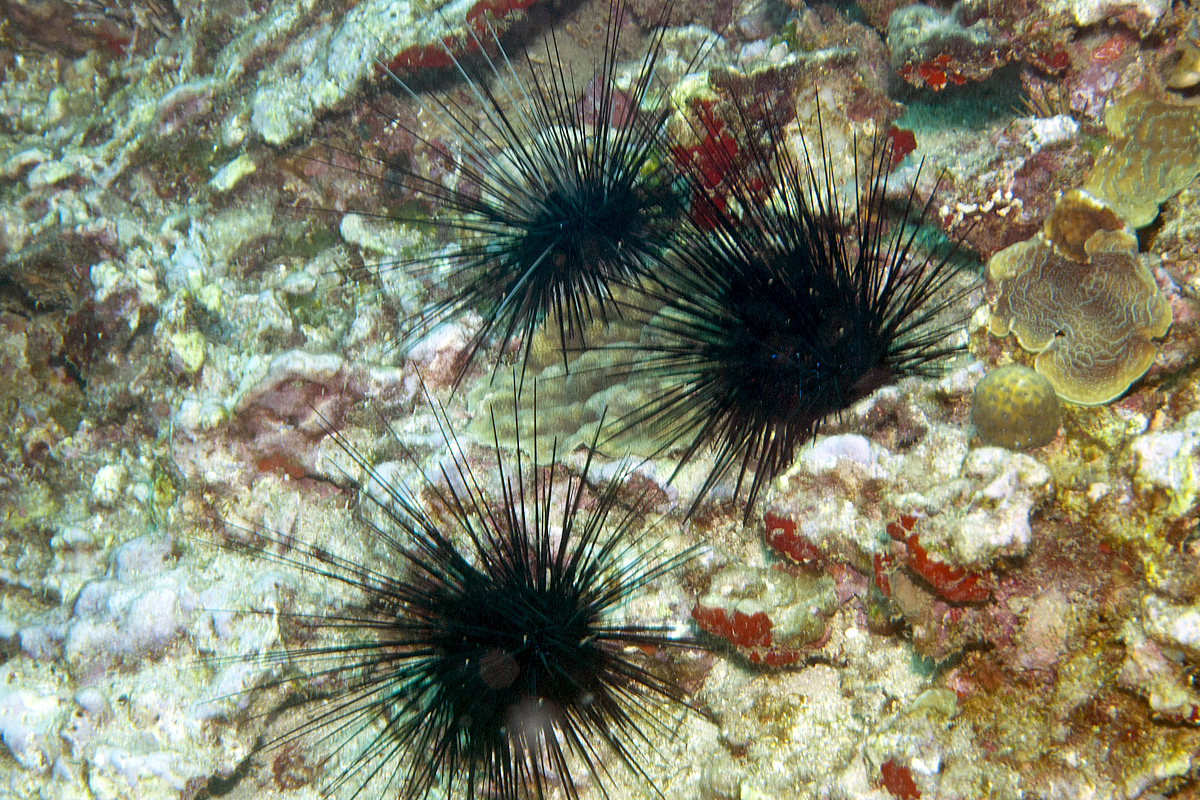 Healthy, living Diadema urchin and healthy group of urchins (photos Ken.Marks)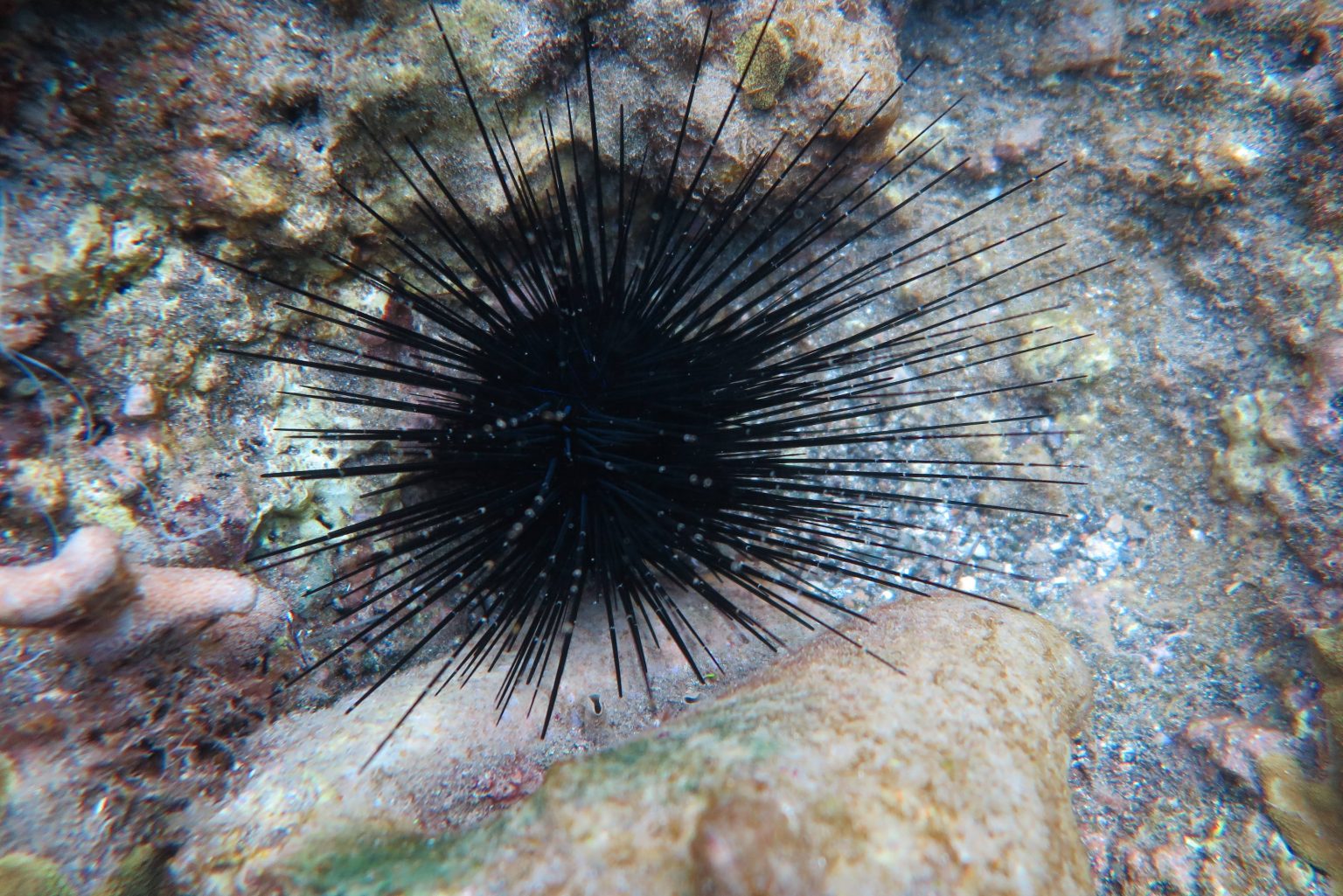 Live Diadema. (photo K. Kitson-Walters).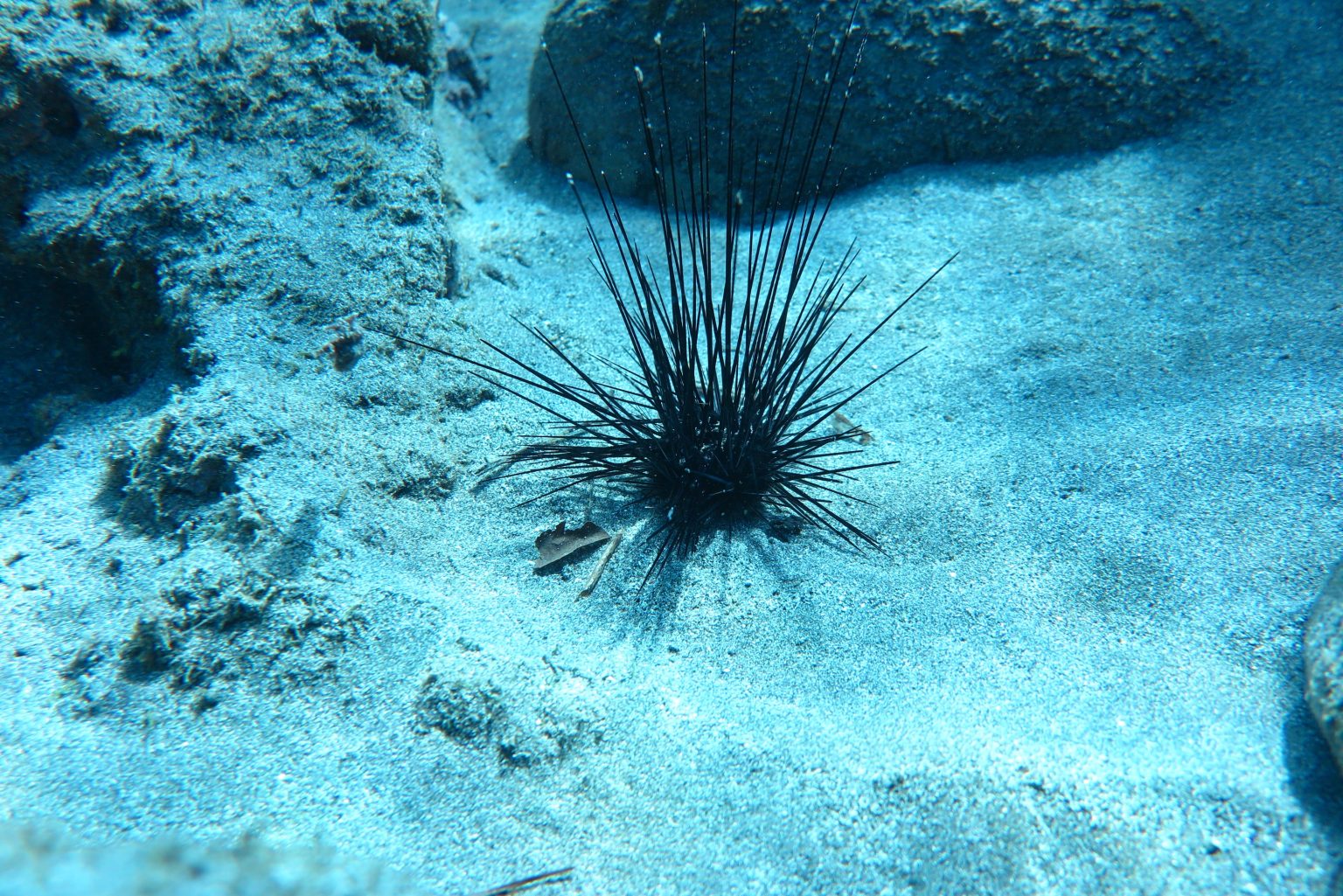 Live Diadema 'drooping' spines. (photo K. Kitson-Walters).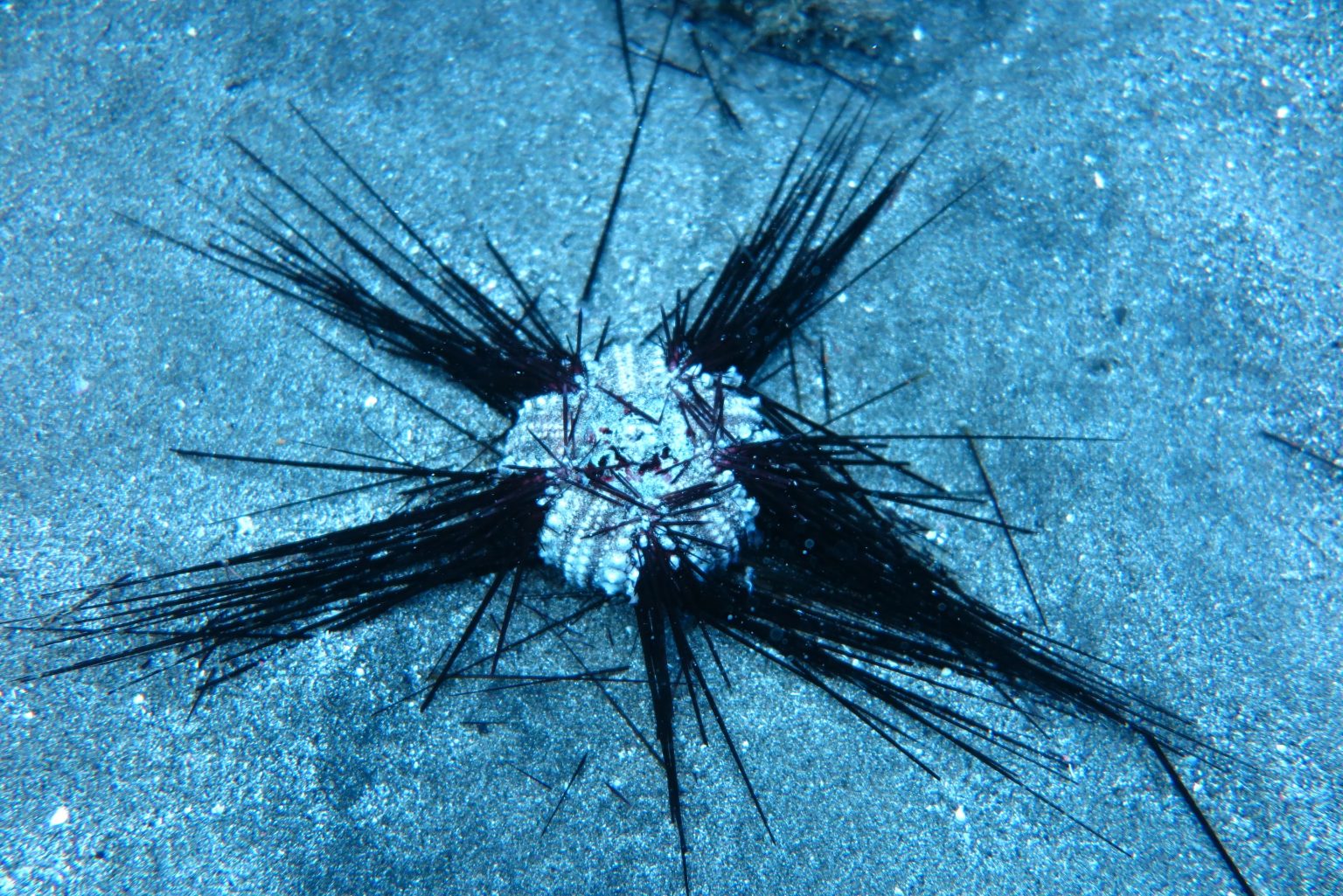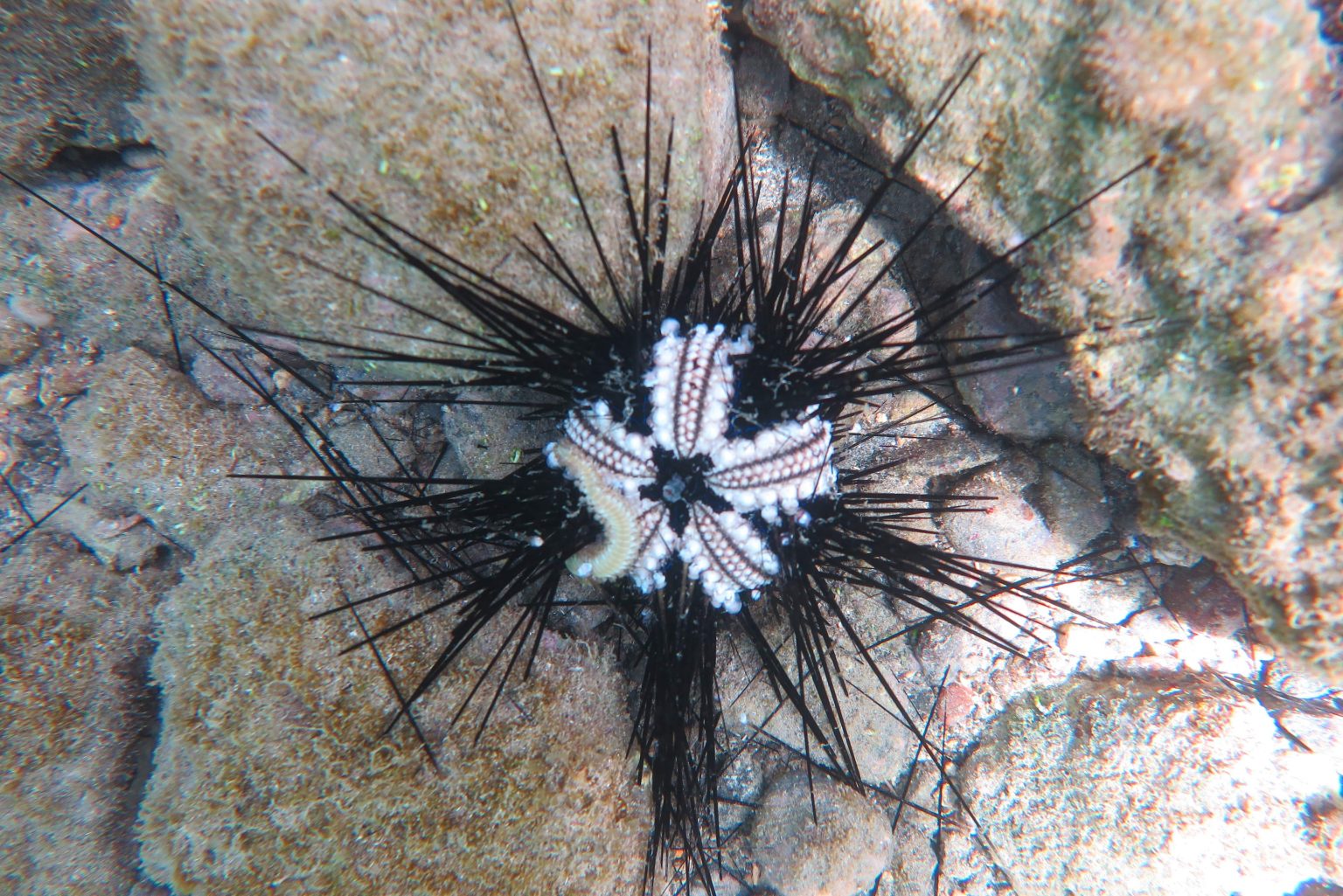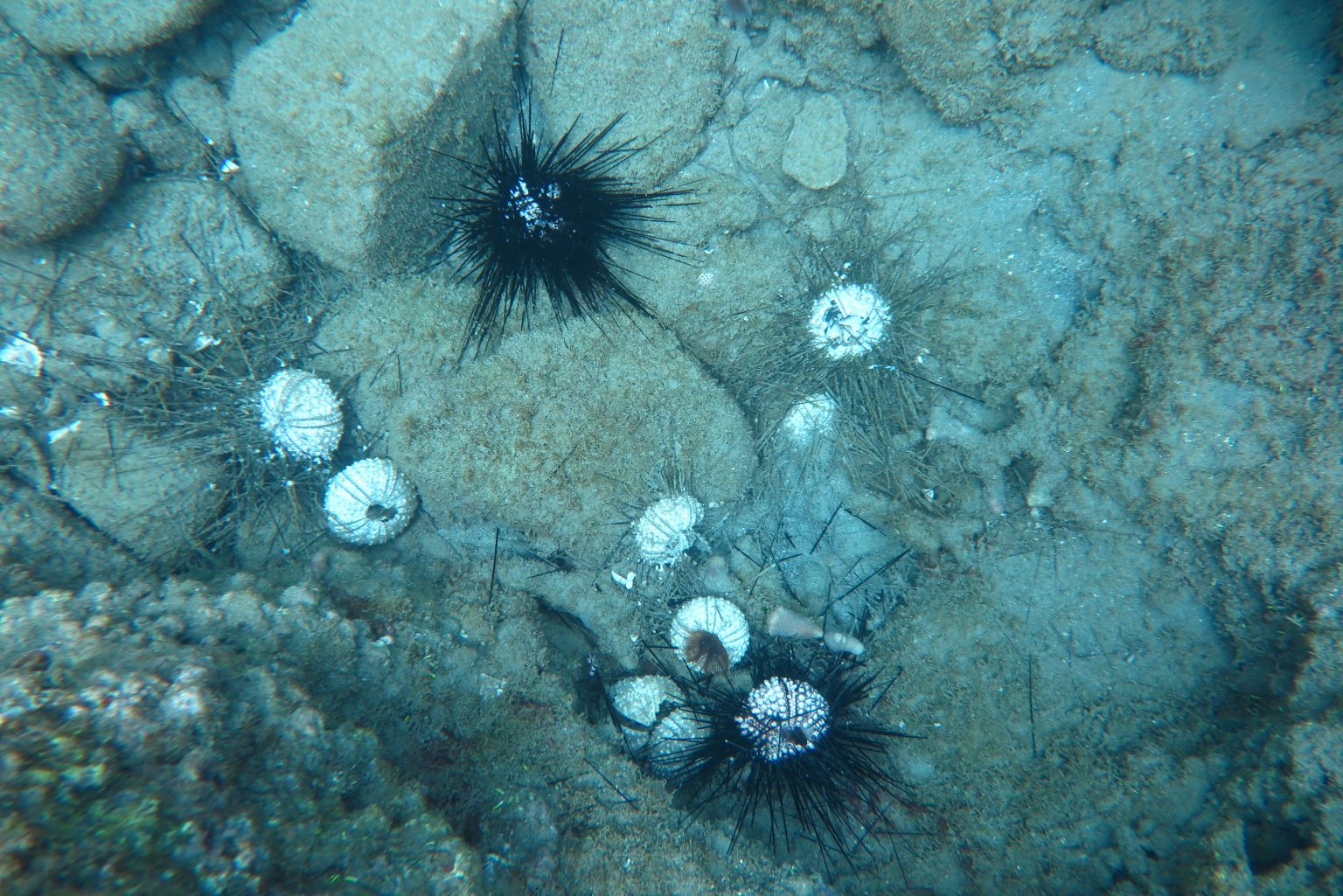 Mortality occurs quickly (1-2 days) in many urchins.
Very high fatality rate. (photos K. Kitson-Walters)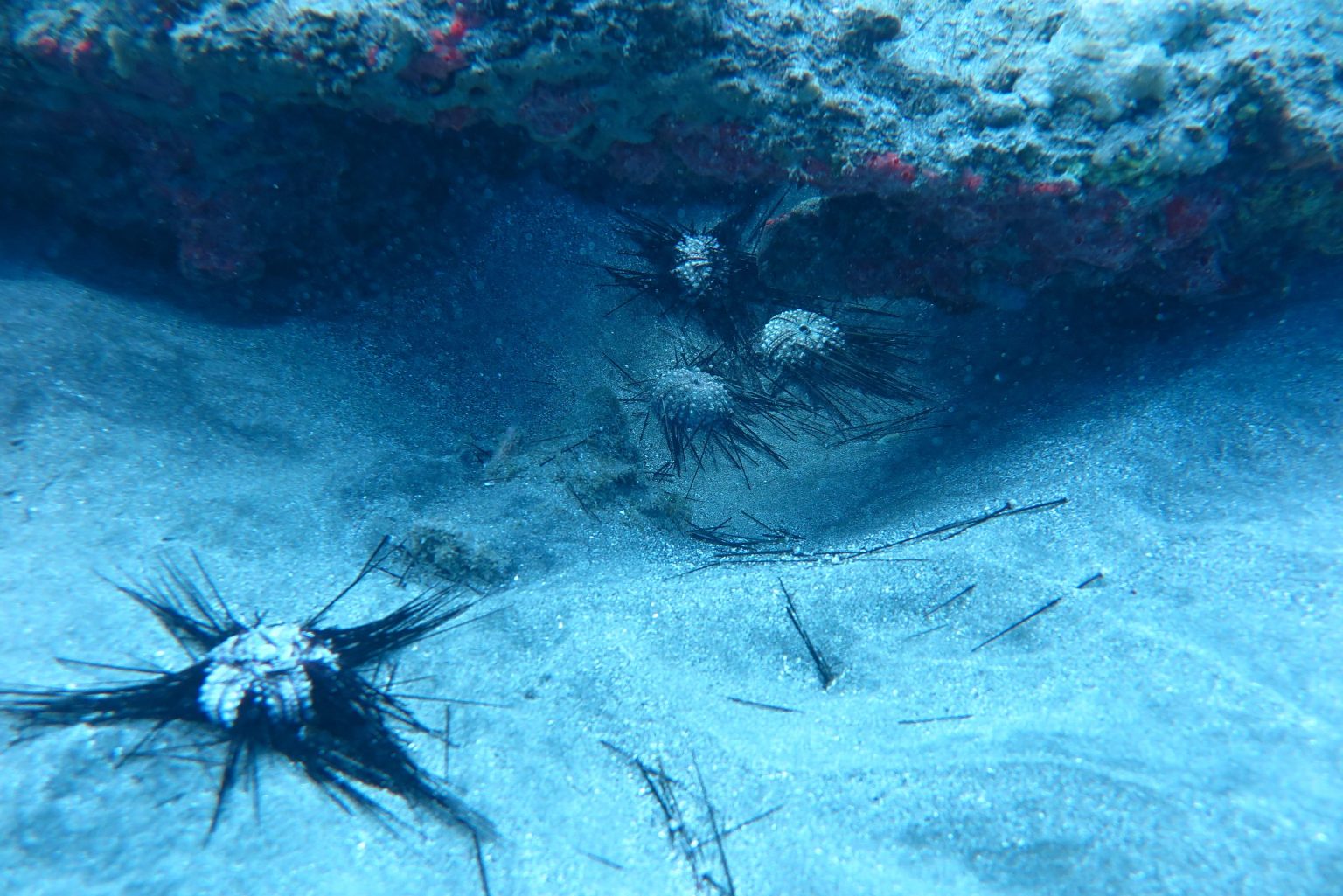 Very high fatality rate. (photos K. Kitson-Walters)
Videos from the Field
1. Video of sick and dying urchins, Sint Eustatius in March 2022 (video shared by Kimani Kitson-Walters (CNSI).
2. Video below of sick and dying urchins, White River Fish Sanctuary, Ocho Rios, Jamaica. Video provided by Reanne McKenzie (https://whiteriverfishsanctuary.com/)
Where are Diadema urchin populations?
Diadema are found throughout the Caribbean in a wide range of habitats including seagrass, mangroves, coral reefs, artifical reefs/breakwaters, tide pools and sand. Below is a map showing location and abundance of Diadema from previous surveys. Currently, it shows just data from the AGRRA website, but if you have data on Diadema abundance and would like to share in this map, please contact us.
About the data – This map consists of data from a variety of sources.
AGRRA – The number of Diadema and other urchins is recorded in a 10 m x 1 m wide belt centered on the benthic transect in order to calculate the density per square meter (Count /m2).
If you have Diadema abundance data, we invite you share and add to the Abundance map.
Resources
Below is a list of example Diadema antillarum resources. More information will be added as it comes available.
Infographics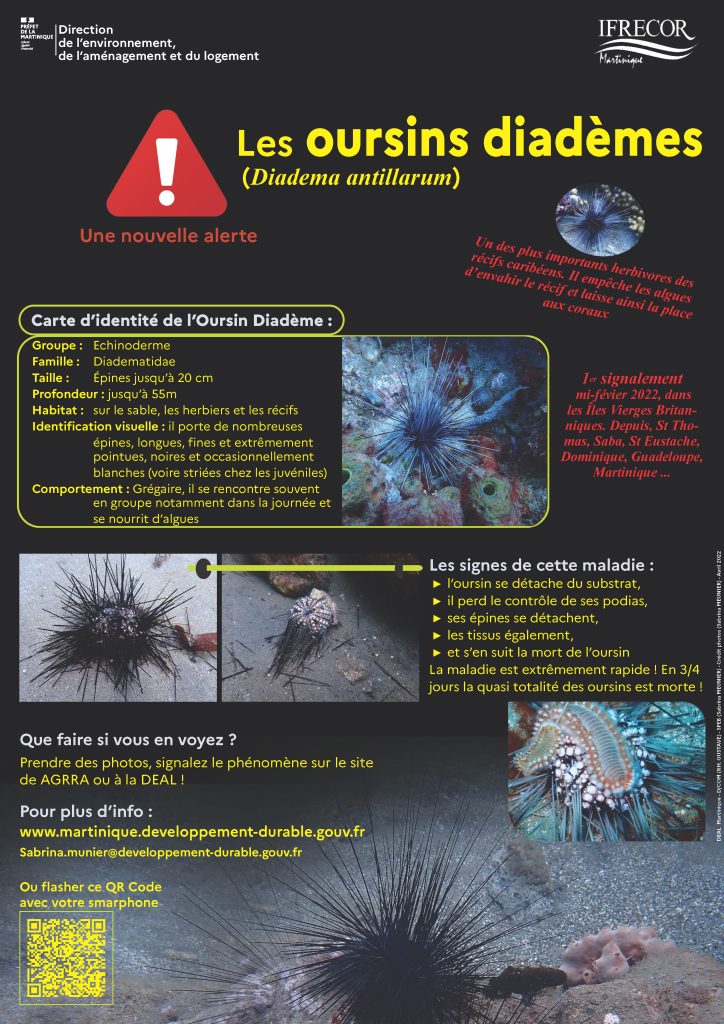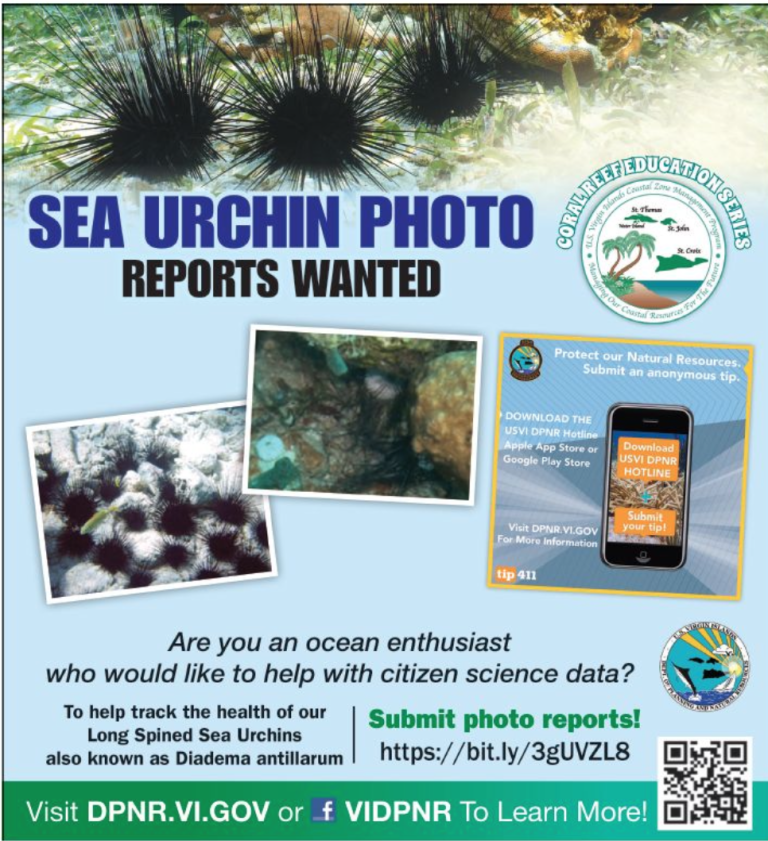 Diagnostic Health Assessment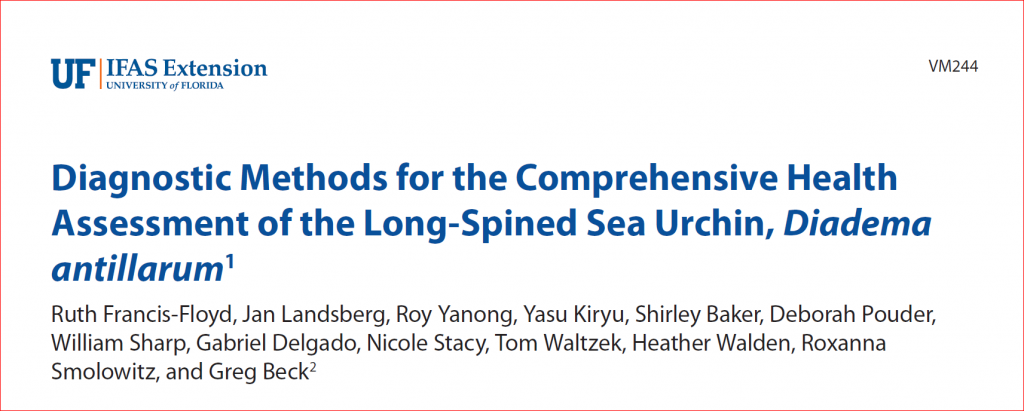 Francis-Floyd, Ruth. 2020. "Diagnostic Methods for the Comprehensive Health Assessment of the Long-Spined Sea Urchin, Diadema Antillarum: VM244/VM244, 05/2020". EDIS 2020 (3).
Status of Diadema post 1983 die-off
Lessios HA. The great Diadema antillarum die-off: 30 years later. Annual review of marine science. 2016 Jan 3;8:267-83.
1983 Diadema antillarum die-off
Lessios, H.A., 1988. Mass mortality of Diadema antillarum in the Caribbean: what have we learned?. Annual review of ecology and systematics, 19(1), pp.371-393.
Hughes, T.P., Keller, B.D., Jackson, J.B.C. and Boyle, M.J., 1985. Mass mortality of the echinoid Diadema antillarum Philippi in Jamaica. Bulletin of Marine Science, 36(2), pp.377-384.
Lessios, H.A., Robertson, D.R. and Cubit, J.D., 1984. Spread of Diadema mass mortality through the Caribbean. Science, 226(4672), pp.335-337.
Restoration
Wijers, T., Hylkema, A., Pilnick, A.R., Murk, A.J., Patterson, J.T. 20 Sept 2022. Novel shaker bottle cultivation method for the long spined sea urchin (Diadema antillarum; Philippi, 1845) results in high larval survival and settlement rates.
Hylkema, A., Debrot, A.O., van de Pas, E.E., Osinga, R., Murk, A.J., Front. Mar. Sci., 15 July 2022 Assisted Natural Recovery: A Novel Approach to Enhance Diadema antillarum Recruitment.
Hylkema, A., Debrot, A.O., Pistor, M., Postma, E., Williams, S.M. and Kitson-Walters, K., 2022. High peak settlement of Diadema antillarum on different artificial collectors in the Eastern Caribbean. Journal of Experimental Marine Biology and Ecology, 549, p.151693.
Pilnick, A.R., O'Neil, K.L., Moe, M. and Patterson, J.T., 2021. A novel system for intensive Diadema antillarum propagation as a step towards population enhancement. Scientific reports, 11(1), pp.1-13. https://www.nature.com/articles/s41598-021-90564-1.pdf
Williams, S.M., 2022. The reduction of harmful algae on Caribbean coral reefs through the reintroduction of a keystone herbivore, the long‐spined sea urchin Diadema antillarum. Restoration Ecology, 30(1), p.e13475.
Williams, S.M., 2016. A novel approach to the restoration of Diadema antillarum on coral reefs in the Caribbean. Reef Encounters, 31, pp.48-50.
Response actions
How to monitor (rover diver, benthic transects – more soon)
Examining tissue samples
To try to understand why Diadema are now dying, collaborative efforts are underway to use tissue samples for histopathological and microbiological or molecular analyses. Please contact us if you are interested in more information at Diadema@agrra.org.
Help stop the spread
The causative agent of the urchin deaths is not known but may be water-borne and may spread through contact. Pathogens can survive on snorkel/dive gear. To potentially help reduce the spread of pathogens, snorkelers and divers can:
Have good buoyancy and don't touch urchins or other reef life.
Rent gear locally.
Decontaminate dive gear after each dive.
Guidelines to decontaminate dive gear and prevent spread have been developed through collective efforts on responding to the stony coral tissue loss disease outbreak. For more information see NOAA's website (https://floridakeys.noaa.gov/coral-disease/citizen-participation.html and MPAConnect info-posters (www.agrra.org/coral-disease-resources).
Seawater and sediment analyses (being explored)
Rescue and restoration (more information coming soon)
Restoration
Currently, there are multiple Diadema restocking projects in the Caribbean. Two different approaches are being used to produce lab-raised sea urchins. Van Hall Larstein University of Applied Sciences (https://www.vhluas.com/research/research-projects/diadema) and the University of Florida in association with the Florida Aquarium are currently larval rearing Diadema in the laboratory in Saba and Florida, respectively. The Institute for Socio-Ecological Research (www.isercaribe.org) has taken a different approach by collecting post-larval settlers from the wild. Wild caught settlers are grown in the laboratory until they reach a larger size for restocking. Both approaches have been successful in restocking young adult to the wild. However, each approach comes with its advantages and challenges.
Larval rearing Diadema
Advantages: can produce urchins all year round, can produce many more sea urchins if successful
Disadvantage: need specific equipment (larval tanks) and clean water, larval-rearing is intensive process
Post-larval settler collection
Advantages: bypass a difficult stage of larval rearing, don't need fancy equipment
Disadvantages: finding the settlers can be difficult, majority of the settlers are collected between 4-5 months of the year
Please contact Josh Patterson (joshpatterson@ufl.edu ), Alwin Hylkema (alwin.hylkema@hvhl.nl ) for further guidance on larval rearing, and Stacey Williams (Stcmwilliams@gmail.com) for guidance on collecting and rearing post-larval settlers.
Diadema Response Network Partners engaged in this effort
The Diadema Response Network is a collaboration of numerous organizations and individuals that have contributed information and guidance on how to monitor, collect samples and respond to the Diadema sea urchin mortality event.
For more information or if you want to become involved in the Diadema Response Network, contact Diadema@agrra.org
The initial planning group includes:
Judith Lang, Atlantic & Gulf Rapid Reef Assessment Program (AGRRA), jlang@riposi.net
Patricia Kramer, AGRRA/ Ocean Research & Education Foundation pkramer@agrra.org
Alwin Hylkema, University of Applied Sciences Van Hall Larenstein, Saba, alwin.hylkema@hvhl.nl
Kimani Kitson-Walters, Caribbean Netherlands Science Institute, St. Eustatius, Kimani.kitson-walters@nioz.nl
Matthew Warham, Department of Planning and Natural Resources, USVI, Matthew.warham@dpnr.vi.gov
Stacey Williams, The Institute for Socio-Ecological Research, Stcmwilliams@gmail.com
Joshua Patterson, University of Florida, joshpatterson@ufl.edu
María Vega Rodríguez, DRNA-Puerto Rico, maria.vega@drna.pr.gov
Guidelines for collecting urchin samples for histopathology were compiled by Judith C. Lang, Yasunari Kiryu (Yasunari.Kiryu@myfwc.com), Thierry M. Work (thierry_work@usgs.gov), Ruth Francis-Floyd (rffloyd@ufl.edu), Michelle M. Dennis (mdenni12@utk.edu) and Esther C. Peters (epeters2@gmu.edu), with additional input by Marilyn Brandt (mbrandt@uvi.edu), Alwin Hylkema, Joshua Patterson, Kimani Kitson-Walters, Matthew Warham, Stacey Williams and Patricia Richards Kramer.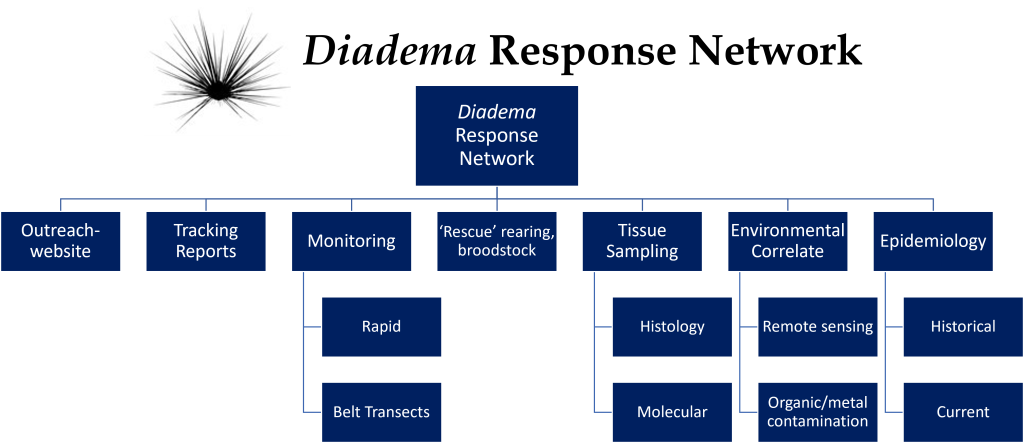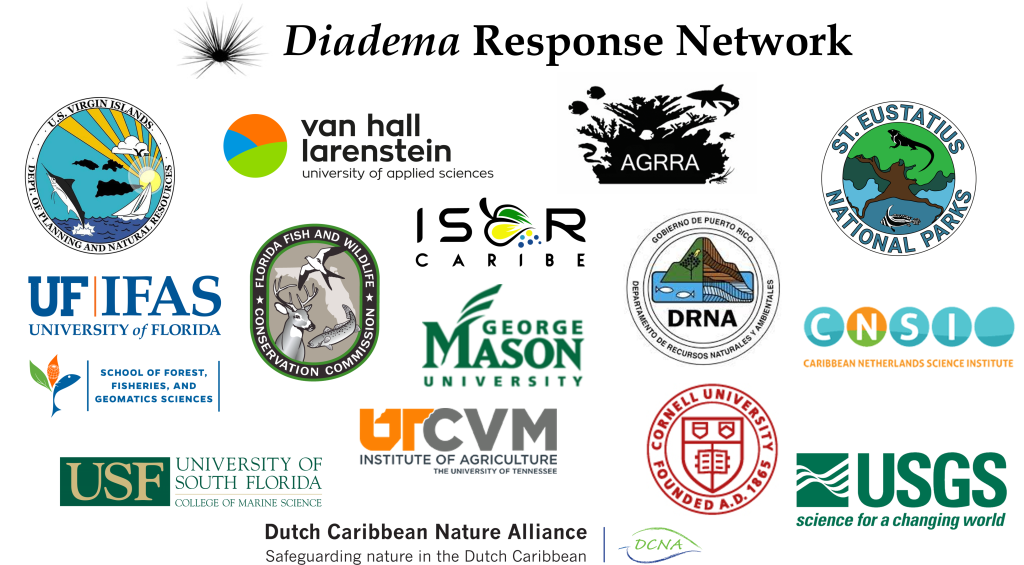 As more information becomes available it will be provided on this web page.
Updated 12-1-22